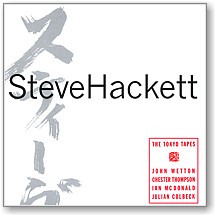 Steve Hackett: The Tokyo Tapes
2CD + DVD
Steve Hackett legendás koncertjének újra maszterelt dupla CD plusz DVD kiadása John Wettonnal (King Crimson, UK, Asia), Chester Thompsonnal (Frank Zappa, Weather Report, Genesis), Ian McDnalddel (King Crimson Foreigner) és Julian Colbeckkel (Yes, Steve Hackett) a zenekarban.
Tartalmaz egy teljesen új stúdiófelvételt, Bob Dylan All along the Watchtower kompozícoóját, melyet Steve John Wettonnal rögzített, valamint a két 1997-es bonusz tracket is, a Firewall és a The Dealer instrumentális számokat.
 
A harmadik lemez az 1996. decemberi tokiói koncert, melyet a próbán készített felvételek egészítenek ki. Régió kód nélküli, NTSC lemez.
A keménydobozba került három CD-t kibővített booklet egészíti ki. Ez a kiváló koncert évekig törölt tétel volt, most végre ismét elérhető.
"Mi minden törtéhet meg, ha egykori Genesis, King Crimson, Asia, UK, Yes, Frank Zappa és Weather Report tagok összeállnak egy koncert erejéig? Pontosan ez történt 1996 decemberében Tokióban. Varázslatos zenei csemege olyan gyöngyszemekkel mint a Watcher of the Skies, Firth of Fifth, The Court of the Crimson King, Shadow of the Hierophant, Los Endos.
On-line megrendelhető