Djabe special guest Steve Hackett project's best moments on double CD

Djabe special guest Steve Hackett: In the footsteps of Attila and Genghis - 2 CD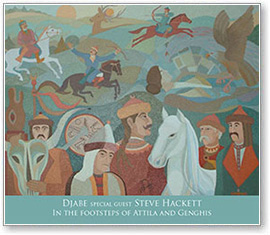 The material of the double CD was recorded in the summer of 2010 during the band's tour with Steve Hackett. The concert tour reached Russia, Hungary, Bulgaria and Serbia (in chronological order). The show included Djabe classics (Distant Dance, Clouds Dance, Butterfly, Doromb, Erdő, erdő) and original compositions by Steve Hackett (The Steppes, Last Train to Istanbul) as well as hits originating from Genesis.

The album features several novelties as the Hackett and Genesis pieces performed with Steve have not been published before. The new Djabe composition entitled Dark Soup has not been available at all, either. An interesting fact is that Steve Hackett was an essential participant of this composition. Other unique pieces include the compositions Pécs and Genghis's Sword.

The most curious recording of the album is the song Last Train to Istanbul by Steve Hackett, which was originally featured on his own current solo album entitled Out of the Tunnel's Mouth. This piece had not been played live even with his own band. One reason of this might be that Ferenc Kovács, the violinist of Djabe plays a vital role in the song. However, Feri Kovács is always part of a Djabe concert, which meant that the band was able to perform this excellent piece of composition.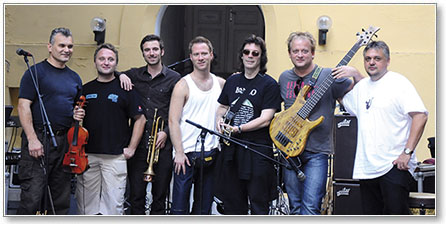 Djabe releases can be ordered from the new Djabe Webhop:
http://djabe.hu/en/uzlet/
Live recordings alive
"Djabe started out on a 15th anniversary jubilee tour in 2010. The tour featured regular guest Steve Hackett, who joined the band in Hungary (Budapest, Debrecen, Pécs), as well as in Russia, Bulgaria and Serbia. These gigs were recorded and the material of their new double concert album published under the title In the Footsteps of Attila and Genghis was compiled from them. Steve wrote a blog about the tour with the same title. The double disc, which is available in a beautiful paper case painted by Imre Égerházi, has a few surprises in store not only for Djabe fans, but those of Genesis, too. Those who have heard the band live know perfectly well that they not only perform their own compositions but some by Genesis and Steve Hackett as a solo artist as well. Moreover, they deliver an extraordinary quality to them. Those who were not fortunate enough to witness their mutual performances now have the opportunity to hear how the band and Steve were made for each other. The core of the album is made up from Djabe hits – old ones and new – yet two hits by Genesis and another two by Hackett have found their way to an album at last. Why at last? Formerly, these brilliant pieces could only be heard live. The album features a guide written by Steve Hackett in which he recalls the mutual experiences and enumerates the stations of the tour. Both discs feature extras accessible on computer. In the case of the first disc, it is part of a concert recording in Serbia in 2010. The second one features an excerpt from a concert given in Malaysia in 2008, where Steve also joined the band, as well as a short backstage tour.
The album is a compilation of the best moments of the jubilee tour, but in spite of the fact that the songs following each other were recorded at different concerts they form a perfect unity. Steve is not a guest at all but a member of the band. The work relationship that has lasted for years now welded the band together, and the programme heard on the album presents the listeners with an experience that can be encountered during a live show. A joyous festival of making music can be heard throughout the album which makes us feel as if we were right there at the concert. The magic of live music comes through entirely."